What, when, and how much to eat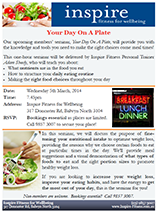 Our upcoming members' seminar, Your Day On A Plate, will provide you with the knowledge and tools you need to make the right choices come meal times!
This one-hour seminar will be delivered by Inspire Fitness Personal Trainer Adam Sheedy, who will teach you about:
What nutrients are in the food you eat
How to structure your daily eating routine
Making the right food choices throughout your day
If you are looking to increase your weight loss, improve your eating habits, and have the energy to get the most out of your day, this is the seminar for you!
---
Your Day On A Plate
Date: Wednesday 5th March, 2014
Time: 7.45pm
Address: Inspire Fitness for Wellbeing, 317 Doncaster Rd, Nth Balwyn
RSVP: Bookings essential as places are limited. Call 9857 3007 to secure your spot!
---