Greet the weekend and support a great cause with the Inspire Fitness team, as we participate in Saturday morning Yoga to raise funds through the Yoga Aid Challenge 2011.  All funds raised by the Inspire Fitness team will be donated to The Nelune Foundation, which will help to ease the burden of cancer patients who may not have the support or financial resources that are needed to cope with treating, managing, and living with cancer.
What Is Yoga Aid?
Yoga Aid is a global event that has a community focus, encouraging movement through Yoga and local engagement to raise funds for local charities.  The Yoga Aid Challenge encourages giving communities to come together; through special, two hour yoga practices held in hundreds of locations worldwide.  The Challenge is lead by a series of 12 teachers, many of whom are internationally renowned.  Hundreds of yogis take part in these unique events in every location, raising money along the way for selected charity partners.
Show Your Support
You can support the cause by participating in the Yoga Aid Challenge, and by sponsoring the Inspire Fitness team through donations.
How Can I Donate?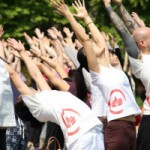 Visit the Inspire Fitness Yoga Aid team page to donate.  Your generous donation can be of any amount you choose.  We hope to raise at least $250 for the cause!
How Can I Participate?
All are welcome to participate, regardless of whether you are a seasoned yogi or have never tried Yoga before!  Register for the Yoga Aid Challenge here, making sure to tick the box next to "I want to create or join a team".  Type "Inspire Fitness for Wellbeing" in the text box listed for "Team Name".  After confirming your registration, spread the word and help us raise funds by sharing the link to our team page to all your friends and family!
Event Details
Inspire Fitness corrective exercise practitioner Jacquie Tran will be in attendance.  She will be wearing an Inspire Fitness polo shirt to make it easy to spot her on the day!
Date and Time: Saturday 12th November, 2011 at 8.00AM to 10.00AM
Venue: Canterbury Gardens, intersection of Canterbury and Balwyn Roads, Canterbury*
View Larger Map
* In case of inclement weather, the Yoga Aid Challenge will take place in-store at lululemon athletica Camberwell (769 Burke Road, Camberwell) (map)
For more information, visit the Canterbury Gardens event page on the Yoga Aid website or on Facebook.
Thanks to Inspire Fitness member Zoe Bourke for letting us know about this great event!