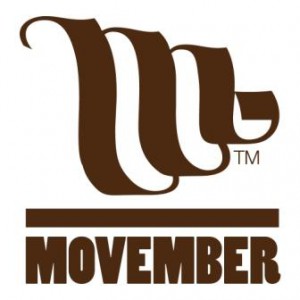 The month of November is dedicated to increasing awareness for Men's Health, in particular, Prostate Cancer awareness and Mental Health awareness (depression).  Each male personal trainer of Inspire Fitness will be supporting Movember by growing (or attempting to grow!) a moustache.  Depression is a serious illness which affects 1 in 8 men through out Australia.  Our focus on health at Inspire Fitness is holistic – we strongly believe that the mental aspects of health are as critical as our physical conditioning programs.
Whilst there is a fun side to Movember, it is important to realise that depression is a very serious illness that impacts over 1 million males in Australia.  Depression is more than just a low mood; it can be a very serious illness that requires medical attention.  With the right treatment, most people will recover from depression.  However, if left untreated or un-diagnosed, it can lead to family break-ups, problems at work or sadly even suicide.  Whilst men have lower rates of depression than women, men often don't seek help, or will use alcohol or drugs to self-medicate.  Over 70% of men with a mental illness don't access services for their mental health.
How do you know if someone is depressed and not just sad?
Exercise
The hardest thing is getting started, because someone who is depressed will be disinterested, lacking in energy and motivation, and may not see the point in doing anything.  However, regular daily exercise can be a great antidote for depression.  The best kind of physical activity for depression is separate to work (if you have a physical job), and purely dedicated to improving physical and mental health.  Walking, cycling, weight training are among many forms of physical activity that all have an amazing effect on your self-esteem and your attitude.
Alcohol
Many people "drown their sorrows" and try to escape problems and feelings of depression through the abuse of alcohol.  The problem is that any relief alcohol may provide is short-lived.  Alcohol is actually a depressant drug – it spoils the quality of sleep and interferes with the effects of antidepressant medication.  The responsible consumption of alcohol includes the following guidelines:
Avoid drinking alone at home, particularly when feeling down or anxious.
Try limiting your drinking to the evening meal.
Avoid placing yourself in a position where there is peer pressure to drink.  For example, volunteer to be the designated driver when going for a night out or heading to a party.
Set yourself limits about how much you will drink and stick to these limits.
Relaxation
The same mechanisms that turn on the anxiety response can also switch it off again.  When we decide to let go of physical and mental tension, the nerves in our muscles change the type of signals they transmit to the brain.  The brain then stops sending panic messages to our nervous system and a general feeling of calmness, both physical and mental, begins to prevail.  Becoming aware of tension in our body, and taking steps to release it through effective relaxation is a vital strategy in the management of anxiety and depression.
The support and information provided by beyondblue is a great benefit to the community.  beyondblue works with the Movember Foundation to:
Raise funds for important Men's health projects,
Generate awareness of depression, anxiety, and related disorders,
Reduce the stigmas associated with these disorders,
Encourage men to talk about these conditions, and
Encourage men to seek help for themselves or their mates for depression and related disorders during Movember.
---
You can support team members of Inspire Fitness for Wellbeing by sponsoring one of our personal trainers growing or attempting to grow a moustache.  Pledge your support by dropping in to the gym and placing your donation in the Movember donations collection box, at the reception desk!