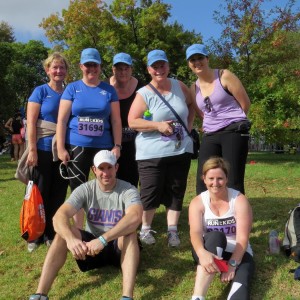 As trainers, we often become close with our clients and share experiences along the journey. But it's not often you get to share those experiences together.
Running the Run For The Kids event alongside our clients counts as one of the proudest moments we have each had while working at Inspire. The distance or the time taken is irrelevant; what matters most is sharing the absolute joy of crossing the finish line next to someone who has put their heart and soul into achieving their goal, overcoming injuries, illnesses, rain, heat, blisters (and maybe a few holidays beers)!
We often talk about how important it is to set goals with your training.  We inform our clients to create a goal for the year so that you have something to strive for.  But how do you actually achieve these long-term goals?  That comes down to the steps taken to complete these goals, the bonds you've formed with those supporting you, and the way you've overcome the obstacles that are placed in front of you each and every day, every week.
Each Inspire Fitness member that took on the Run For The Kids challenge has had to overcome their own individual obstacles: injuries, lack of self-belief, or even simply a lack of training time.  What we learnt on the Sunday 13th April is that you can never underestimate a person's will to succeed, nor how strong their burning desire to complete a goal, or to prove someone wrong.
Believe you can, and you are halfway there.
True self-belief is not a characteristic that many people have. It is undoubtedly a difficult thing to build and sustain. But surrounding yourself with the right people – a strong support crew of people who believe in you, who you trust, who will be there with you every step of the way – is critical to anyone achieving anything in life.
It takes a strong person to put themselves out there to face the fear of failure, but it can also drive people to achieve greatness.
This amazing group comprised many different levels of fitness, strength, motivation, and self-belief, but what bonded them was their determination, their drive to succeed, and their intent to prove the doubters wrong. What started out with a challenge posed at the 2013 Inspire Christmas party has ended in the photos you see here, featuring a group of extremely happy individuals who can now call themselves "runners".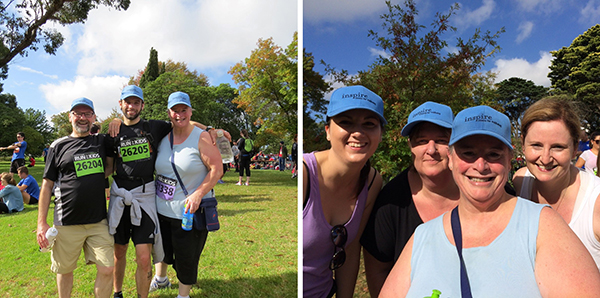 This incredible group of clients – Kym Robson, Helen Shoemark, Janice Carey, Lesley Serong, Keira Howlett, and Greg Shoemark – showed their dedication to the cause week-in week-out, rain, hail, or shine. From the pre-run 6am stretching session at Inspire, to adopting healthy nutritional strategies, committing to proper hydration, weekly Tuesday & Thursday ankle taping, torn calf muscles, painful but worthwhile myofascial release sessions…no matter what we asked, they did it! They never wavered in their commitment to achieving their goals.
It is a true credit to each and every Inspire Fitness member that took part, and we hope to share in many more of the same uplifting experiences in future.
---
Written by Daniel Lowrey and Nicole Marlow.  Daniel is a corrective exercise specialist who draws on his extensive postgraduate studies and experience with elite athletes to assist his clients in achieving a wide range of goals including weight loss (record 40+kg  lost by one client), completion of the Oxfam Trailwalker 100km walk, and strength gains.  Nicole is an Accredited Exercise Physiologist who has a particular interest in working with clients with chronic pain and has used exercise as medicine with individuals suffering from a variety of cardiac, respiratory, metabolic, and musculoskeletal conditions.