Roger Wright had been obese for most of his adult life, weighing over 135 kg from his late 30s until his 47th birthday. When the scales tipped over 144 kg, Roger knew he had to drastically change his ways before it was too late. After years of struggling with his weight, Roger decided to take up running with the aim of running the Boston Marathon.  Click the image below to watch a video of his journey:
What Roger Wright achieved is not a once-off story, either. Let me introduce you to Steve Way.
In 2007, Steve weighed over 100 kg, was a heavy drinker, and smoked 20 cigarettes a day. As a result of his destructive lifestyle, his health declined.  And like Roger, Steve decided to start running.  Bit by bit, as Steve lost weight and reclaimed his health, he realised that he was actually quite a good runner!  So good, in fact, that Steve was selected to run for England at the 2014 Commonwealth Games recently held in Glasgow. But it gets even better: Steve placed 10th in the marathon at the Games!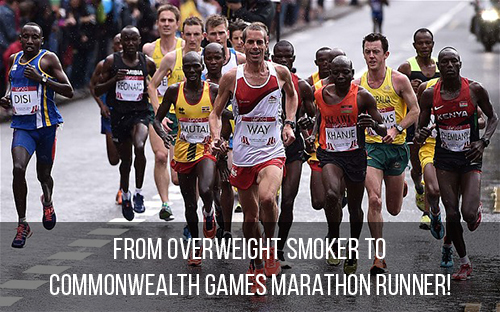 There is no doubt that these individuals are inspirational. But I could help but wonder: why are their stories inspiring?  Is it simply that they have gone from "fat" to "fit"?  Is it the massive change in their physical appearance, the vitality in their eyes?  At Inspire Fitness for Wellbeing, our slogan is that "it's about feeling good". So the goal is not simply to live longer, to get fit and stay fit; the ultimate goal is to flourish.
Martin Seligman's Wellbeing Theory
Martin Seligman is the known as the "father of positive psychology".  In his book "Flourish", Seligman states that what humans seek is not happiness, but something deeper: wellbeing.  We want not only to feel positively about our lives, but we want to flourish and live well.  Wellbeing is multidimensional, and Seligman proposes that it has five key components, captured by the "PERMA" acronym:
P

ositive Emotion: Feeling happy! Includes feelings of pleasure, rapture, ecstasy, warmth, and comfort.

E

ngagement: Being in a flow state, losing self-consciousness during a deeply absorbing activity.
Positive

R

elationships: Of positive relationships, Seligman says, "Very little that is positive is solitary. (…) Other people are the best antidote to the downs of life and the single most reliable up."

M

eaning: According to Seligman, living a meaningful life "consists in belong to and serving something that you believe is bigger than the self."

A

ccomplishment: Seligman defines this aspect as pursuing "success, accomplishment, winning, achievement, and mastery for their own sakes."
Exercise and Wellbeing: Inextricably Linked
Exercise is one of the most effective ways to improve and maintain each of these five aspects of wellbeing. And make no mistake: wellbeing is not just a psychological state. There are real, measurable benefits for your body's biological health too:
Exercise makes us happier
There is strong evidence that humans evolved for movement: this much is clear from the great variety of ways our bodies and body segments can move. Our brains have also evolved to reward us for moving! Exercise stimulates the release of endorphins, which help us to feel an immediate increase in our sense of happiness by reducing our sense of pain and heightening our sense of euphoria.
Physical activity encourages focused attention
Physical activity that is particularly challenging, skilful, or vigorous demands our focused attention in order to move safely and efficiently. As a consequence, physical activity is an effective way to achieve what is known as "flow state" or "being in the zone". One of the most common experiences we hear from our clients is a sense that "the rest of the world falls away" when they are training well. The ups and downs of life seem to dissolve for a moment in time while we are exercising and in flow.
Exercise helps us cultivate our social networks
There are unique benefits to your health when you exercise with a friend or partner or in a group setting. Exercising alongside others helps to build social bonds based on common interests (and struggles!). Do you have a "training buddy" to help you stay accountable to your exercise commitment? This kind of relationship also builds trust, mutual respect, and empathy. Not only that, but exercise behaviours are socially contagious – if you exercise regularly and practice healthy lifestyle habits, you increase the likelihood that others around you will also lead healthy and active lives.
Dedication to something greater than ourselves
For many of our clients, exercise is a selfless habit. It's about being healthy and active enough to play with your kids, being a positive role model for your family and friends! Exercise helps us achieve well-being by dedicating our energies towards something that we believe is a force of good in the world. At Inspire, we are proud to see a growing number of our members taking on exercise challenges such as the Run 4 The Kids, the 50-km Upstream Challenge, and the 100-km Oxfam Trailwalker Challenge, to raise funds for charity and draw awareness to important issues in our community.
Regular exercise = regular achievement
We are big believers in the power of goal setting. Maybe you want to run a marathon someday? Perhaps you want to move more gracefully and with less pain. Or you want to lose weight and feel better. Or you want to lift just a little more load than you did in your last session. Whatever your goal, regular exercise provides the platform for the achievement of any healthy goal – big and small!