Brrrrr!  It's been a cold start to winter in Melbourne!  And when the temperature drops, it can be easy to let your good training habits drop off too.  So what can you do stay active during the cold winter months?
Make the smart choices easy
Pack your gym bag beforehand.  By doing so, you reduce the effort required to battle the elements: all you need to do is get out of bed, grab your gym bag and keys, and get going!
Get enough sleep.  It's a challenge to peel yourself out of bed when it's warm under the covers but cold outside.  Harder still if you are sleep-deprived and your body is crying out for more rest!  Sleep researchers have also found that sleep deprivation drastically reduces our self-control.  The lesson is: go to bed early, wake up rested, and it becomes so much easier to make the smart choice of going to the gym.
Choose activities that you enjoy.  There are so many ways to stay active, but if you're not having fun while exercising, then you are far less likely to maintain a long-term exercise habit.  At Inspire, our Exercise Physiologists and Personal Trainers pride themselves on creating individually-tailored exercise programs to suit your needs while also taking into account your exercise preferences.  Book a program review to keep your routine lively, varied, and fun!
Focus on the positives
When you dwell on the negatives – how cold it is, how annoying it is to step outside when it's raining – your brain starts to look for the "easy way out". Instead, focus on the positives that come from sticking to your healthy habits.  Think about how satisfying it feels to finish a workout.  Think about your long-term health goals and remind yourself why your regular exercise routine is so important.  Think about how much warmer you'll feel after a few minutes of jogging, cycling, and resistance training!
Be accountable
Organise to do your workouts on agreed days and times.  Routine is important here, but so too is the fact that you can encourage each other and keep each other accountable to the goals you've set for yourselves.  Looking for more guidance?  Book in to see one of our Exercise Physiologists and Personal Trainers!  They will help keep you motivated and provide expert instruction and feedback to make sure that you are getting the most out of your training.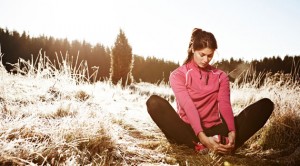 Find a way!
Life throws us all sorts of challenges.  Having to brave the cold for a few minutes to get to the gym is really not that difficult in the larger scheme of things.  Sometimes, the best strategy is to adopt a resilient and health-focused mindset: refuse to choose the easy option when you know the slightly harder option is better for you.  Put simply, find a way!  When your actions align with your health goals, you strengthen your willpower.  Ultimately, this makes it easier for you to make the smart choices again in future.