In the last instalment of this 5-part series, we look at what many consider to be the most important element that underpins successful elite sports performance: PURPOSE.  Often an abstract concept that is difficult to pin down, purpose comes down to that one thing that drives you towards continued progress.  It's the fire in your belly, the passion needed to push you through the tough times when motivation inevitably wanes.  Purpose is critical to your training, because it determines the strength of your resolve to continue heading in the direction of your lifelong health and fitness success.
Draw determination from your purpose
Drew Ginn (Rower, Three-Time Olympic Gold Medallist and Silver Medallist at the London 2012 Olympic Games): "Why are we here? (…) We are not here on a whim. It's not by chance. We have come to this point like a selective group of forces. Four athletes and a coach, and yet those who influence us are many more. We are appreciative and respectful of all who help us and all who have shaped us. Our rowing is the making of many and yet only four of us get seen."
Elite rowers are amongst the most highly trained athletes in any Olympic sport. The average week for an Olympian like Drew Ginn entails a whopping 20-28 hours of training! Because of these incredible training demands, rowing provides the perfect case study of the power of purpose. Determination is tested in the day-to-day of training to be an elite rower: from 5am on-water sessions on cold winter mornings, to the sheer volume of training undertaken, and the pressure to compete from both individual and crew perspectives. And yet, driven by something greater, driven by purpose, these amazing athletes overcome these unique challenges over and over again in pursuit of Olympic glory.
This point is well made by Drew Ginn, as quoted above. Specifically, Ginn refers to rowing being "the making of many" – the acknowledgement of others in his life (crew mates, coaches, family, and friends) who have supported Drew in his outstanding journey as one of Australia's legendary athletes. This insightful comment is made all the more poignant by the iconic snapshot below, taken at the Beijing 2008 Olympic Games, where Ginn won gold with Duncan Free and revealed the true inspiration that spurred him on through years and years of toil – his children.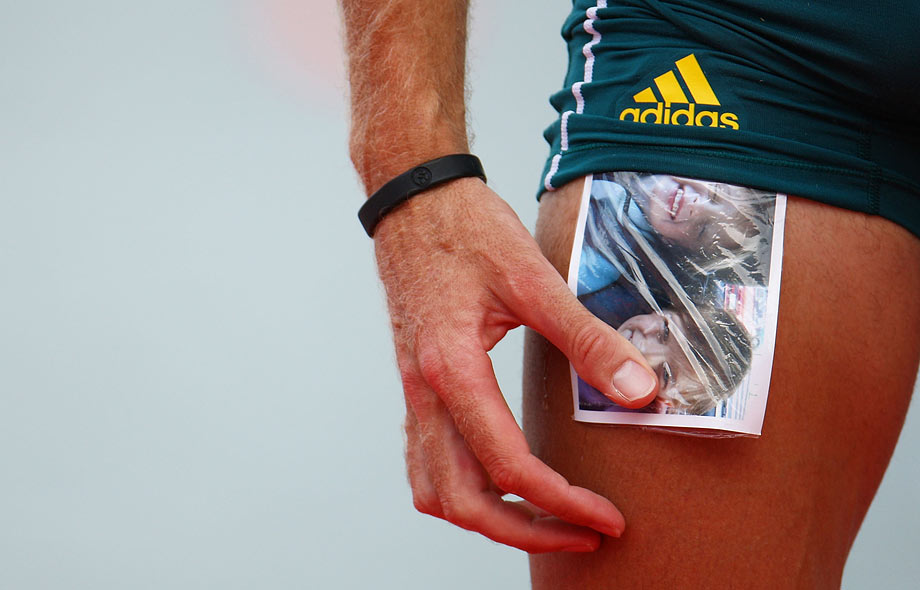 Even in the face of seemingly insurmountable challenges, commitment to a clear purpose has shown time and time again to be a performance-determining factor amongst the world's greatest athletes.
What can we learn?
With the London 2012 Olympic Games just past us, this is the time when our elite athletes shine, performing near superhuman feats, displaying courage, inspiring nations and generations in their quest for Olympic gold.  Though you and I may never reach such great heights with our athletic endeavours, we can learn from their example to push our own training to new levels.  After all, "hard work beats talent when talent doesn't work hard"!