Richard Bottomer (Personal Trainer / Strength & Conditioning Coach at Inspire Fitness) demonstrated his passion for strength and conditioning by competing successfully in his first powerlifting competition last week.  Richards commitment to training and his expertise in developing strength training programs combined to assist in developing his peak performance.
"Last Saturday I competed in my first powerlifting competition and many Inspire Fitness clients asked questions about it so thought I'd do a short write up to give you all a bit more information!
A powerlifting competition comprises of 3 lifts – the squat, the bench press, and the deadlift. You get three attempts at each of these and your heaviest successful attempt on each lift is combined to give you your score.  Your score is determined by your maximum lift relative to your bodyweight; in order  to compare you against other lifters.
I competed in the under 67.5kg weight class however my goal was to weigh under 66kg as this is the weight category in the IPF (which is the most highly recognised powerlifting federation) in which I am looking to compete later this year. Three months prior to the competition I weighed 73.2kg and on the day I managed to weigh in at 65.95kg – pretty much the perfect weight cut! When dieting down I aimed to lose no more than 500g per week to allow me to maintain as much lean muscle mass as possible and lose mostly the unusable fat mass in my body. This made it much easier to stick to my plan as I didn't have to cut out any of my favourite foods and rarely felt more hungry than normal.
At the competition I managed a 127.5kg Squat (Unfortunately missed my attempt at 132.5 which would have given me a 2 times bodyweight squat which was my original goal), an 85kg Bench Press, and a 162.5kg Deadlift (missed 2 attempts at 172.5kg) giving me a 375kg total at my body weight of 65.95kg. I was disappointed by my deadlift as I managed to lift 172.5 a week earlier, however I hadn't considered the impact of the high heat on the day of competition and the associated fatigue this caused; so this was a valuable learning experience for future competitions.
Overall I was happy with my performance on the day.  It was a very supportive environment, I met some great people, and I got some useful tips to utilise in my training to help me improve my performances for next time. If you have any more questions feel free to come up to me when you see me around the gym and have a chat!"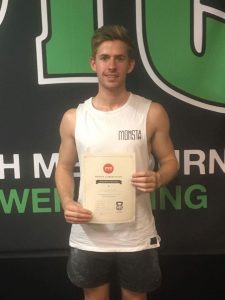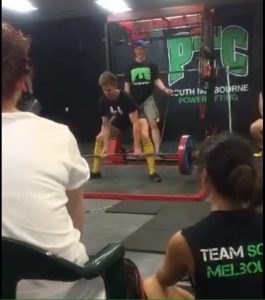 Richard Bottomer  Bach.App.Sci (Masters Strength & Conditioning)