Inspire Fitness Nutrition Program
Is it time you took more control of your health and wellbeing?
Do you find it difficult to be consistent with healthy eating?
Do you find you lack control in what you eat?
Are you lacking energy or motivation?
Or do you find yourself searching the fridge looking for the next sugar fix?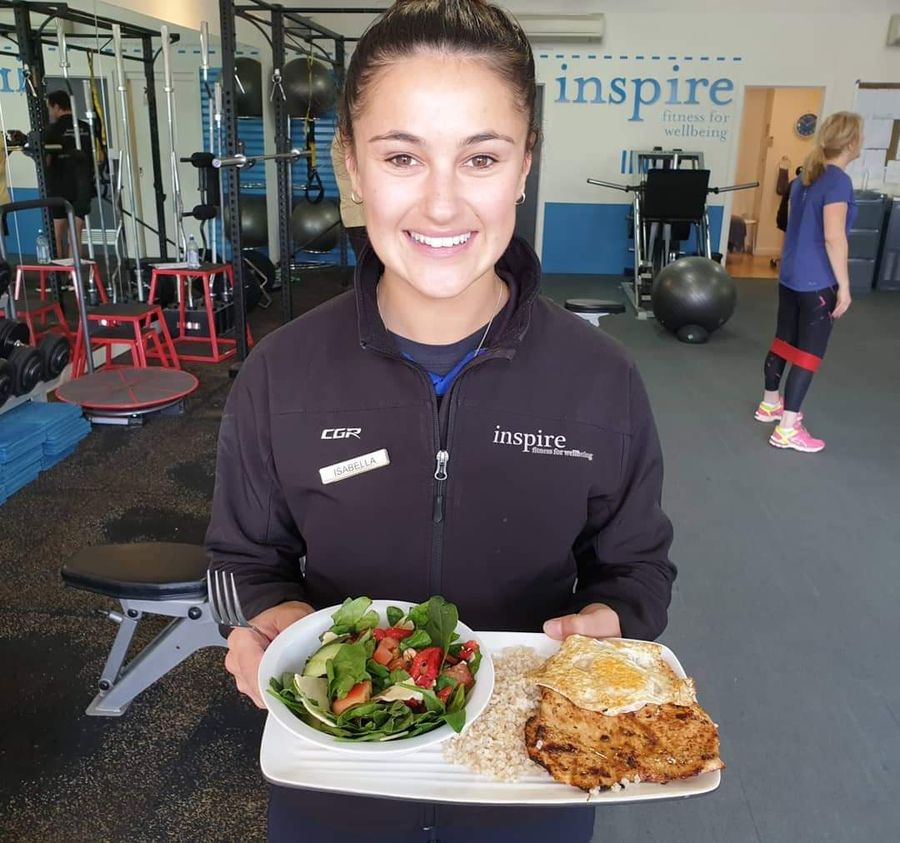 The Inspire Fitness Nutrition Program is an 8-week program designed to focus on improving your nutrition and wellbeing. It is intended to teach you how to eat a nutritious, balanced and wholesome diet. As well as providing you with continuous one on one support for long term success.  
In today's society it can be very daunting with a lot of different diets and opinions in terms of what to eat. We teach you how to read food labels, construct meals and give your body the best fuel for you to feel energized each day.
We focus on your goals and also unlock potential barriers as well as strategies to overcome them.
We engage in a holistic approach by addressing your sleep, stress, social and work life as these can all be factors which may hinder results and overall health.
The program offers constant one on one support with a weekly phone call with our nutrition consultant as well as access to an online peer support group. This allows you to discuss weekly challenges and to get you back on track. As well time to reflect on your food diary and receive on going education.
Your results are measured on an "Evolt" Body Scanner- and enables us to understand your break down of body fat compared to lean muscle mass, fluid and visceral fat. This offers valuable information which has a direct impact on your health and can help to reduce risk factors for chronic disease.
The program includes:
Educational seminar outlining the program and nutrition information
Initial assessment, 4-week review and final assessment; to create your goals, take your measurements and create a long term plan
2x Body Composition Analysis Tests
Comprehensive Inspire Fitness Nutrition Manual and "Road Map" workbook to track your progress
Weekly phone call with your nutrition coach to provide support, advise and education
Weekly blog to enhance your knowledge
Access to online peer support group
Inspire Price: $259
Testimonials:
Georgia Christoforou:
"I enjoyed the whole program but in particular the personalised catch ups, both meeting in person at the start, middle and end of the program, and also the weekly phone call. This really helped me stay on track. Isabella's recommendation to keep a food diary also helped me establish good eating habits, that I've stuck to post the program, and which have not only helped me to lose weight but to feel more energised and to sleep better.
The program educated me on how to incorporate a more nutritious approach to eating into my every day life. This was really the difference for me compared to other programs and diets that I've tried. This is not another diet; it really is a permanent change to eating habits. And that's why it's been successful for me – it's easy to incorporate onto your lifestyle, and the sharing of recipes, introduction of new food ideas, and even the group chat which saw the sharing of information and questions contributed to a being able to make better choices. Isabella's extensive knowledge about nutrition and also exercise was key to this"
Hamish Barnard:
"Working on this program with Isabella has allowed me to learn what it is I should be eating to maintain good health and energy. I have learned the right amount of protein and fats to eat which keep me full for longer and keep me energised. I now know how to plate up my meals with the right mix of protein, carbohydrate and vegetables and I find this easy to achieve. If I get hungry and need to snack I have learned that a protein snack is best as it will keep my going until my next meal. Isabella checks on my progress, gives me lots of useful tips and I have learned a lot about nutrition that I can put into practice."
Lindy Biviano:
I have been focused on increasing my physical strength and fitness in recent years. I undertook the Inspire Nutrition program knowing that dietary factors are just as important to overall health and wellbeing, but never feeling as though I had the time, knowledge, energy or commitment to be successful on my own. This 8 week program was exactly what I was looking for and more! The program provided me with the ideal platform on which to make lifelong habits for the better and I have made so many positive changes as a result. Isabella was incredibly supportive and a constant source of motivation to keep up the good work! Simple recipes and ideas were part of the program, as were weekly check-ins which were helpful for keeping on track. I really loved the program and have been so happy to not only have made the changes I have, but to have kept it up on my own since the end of the program a few weeks ago!
Richard Jones:
I have been coming to the gym for a number of years, with general fitness and weight loss being my primary goals. I have been frustrated by my weight being fairly static for a number of years. Joining up with the Nutrition Program helped me to regain my focus and improve my dietary habits. Taking part with Ann meant we both had additional support, as well as being accountable to each other at home. We have had lots of support from Isabella, and other participants, in the form of additional advice and great recipe ideas through an active chat group. With improved eating habits, we are starting to see results, and getting on the path to achieving our long term goals.